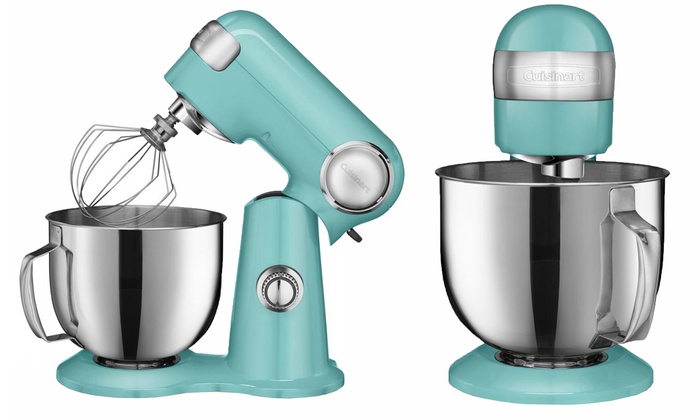 Whether you are into one of those "manly" cooking methods: spicier recipes and hot fire, occasionally you would need the help of these mixing machines. If your concern is how to find such power tools to add to your growing kitchen collection, choosing the Cuisinart Mixer series will be a one smart choice.
Checkout our list of best quality stand mixers in India 2020 here.
1.Cuisinart SM-70 7-Quart Stand Mixers
Prominent Product Features:
It does all mixing jobs neatly with its powerful 1000-watt motor. As opposed to other mixer, both the gears and the gear housing are in a metal enclosure. Plastic haters will love this product. It comes with a 3-year product warranty and 5 years for the motor itself
Up to 3 recipes can be accommodated on a single job. This model comes with an extra-large 7-quart bowl perfect for heavy cookie or meringue lovers
Precision blending is achieved using its soft start, 12-speed, and auto shutoff technology.  No more splattering on your kitchen table or the dreaded "cloud of flour"
A tilting mixer allows you to change accessories or add ingredients to the mix a bit easier. Additional accessories for any specific needs can be purchased separately starting with the juice blender, meat grinder, pasta maker, and food processor.
What to expect:
– Because of its powerful motor, you can literally finish mixing the dough in minutes. You will find the timer extremely useful especially for lower speed mixing that takes so much time giving you more time to control it
– With its unique narrow-shaped bowl as opposed to using shallow-wider bowls, there are lesser chances of spilling the ingredients everywhere
– If you are looking for that ultimate design that gives you access to the most areas of the bowl, this model is perfect for you
– And yes, the attachments are all dishwasher safe.
2.Cuisinart SM-55 5-1/2-Quart Stand Mixer
Another product that caught our attention is the SM-55 model. Here are some of its notable features we think you should know.
Prominent Product Features:
Unlike the SM-70, this model is powered by an 800-watt motor, powerful enough to accomplish any mixing job
With its 5 ½-quart capacity, double recipes are handled very easily. The bowl is made of stainless-steel material, durability guaranteed
It also features a controlled start up, preventing splattering or flour haze. This model is equipped with 12 variable mixing speeds for delicate and tough mixing needs
It comes with a wide array of accessories including those that can be purchased separately.
What to expect:
– For those who can't stop complaining about the quality and service of their existing mixers, this model could be the ultimate "heaven sent." Cuisinart is known to have the longest warranty coverage than any other products in the market today
– If you keep forgetting about the time, you will appreciate its auto shutdown function. This prevents the machine from overheating, which could potentially damage its motor or gearbox. Most people have found this nifty little feature rather useful
– The bowl locks tight during operation and slips easily when you are done. As with any mixers, there's still the problem of the dough "climbing" to the kneading hook. However, as compared to other products, this model creates fewer messes
– And who could ever forget that one little timer. This saves you time to do some other stuff and not to stand watching until it's over.